Media Coverage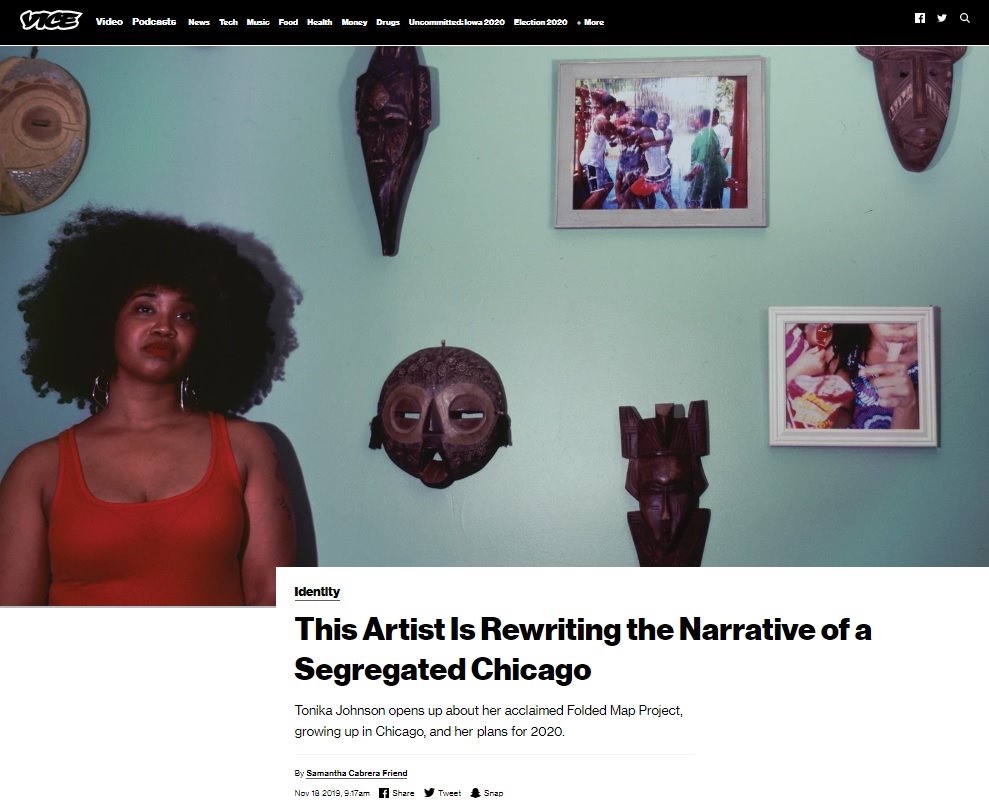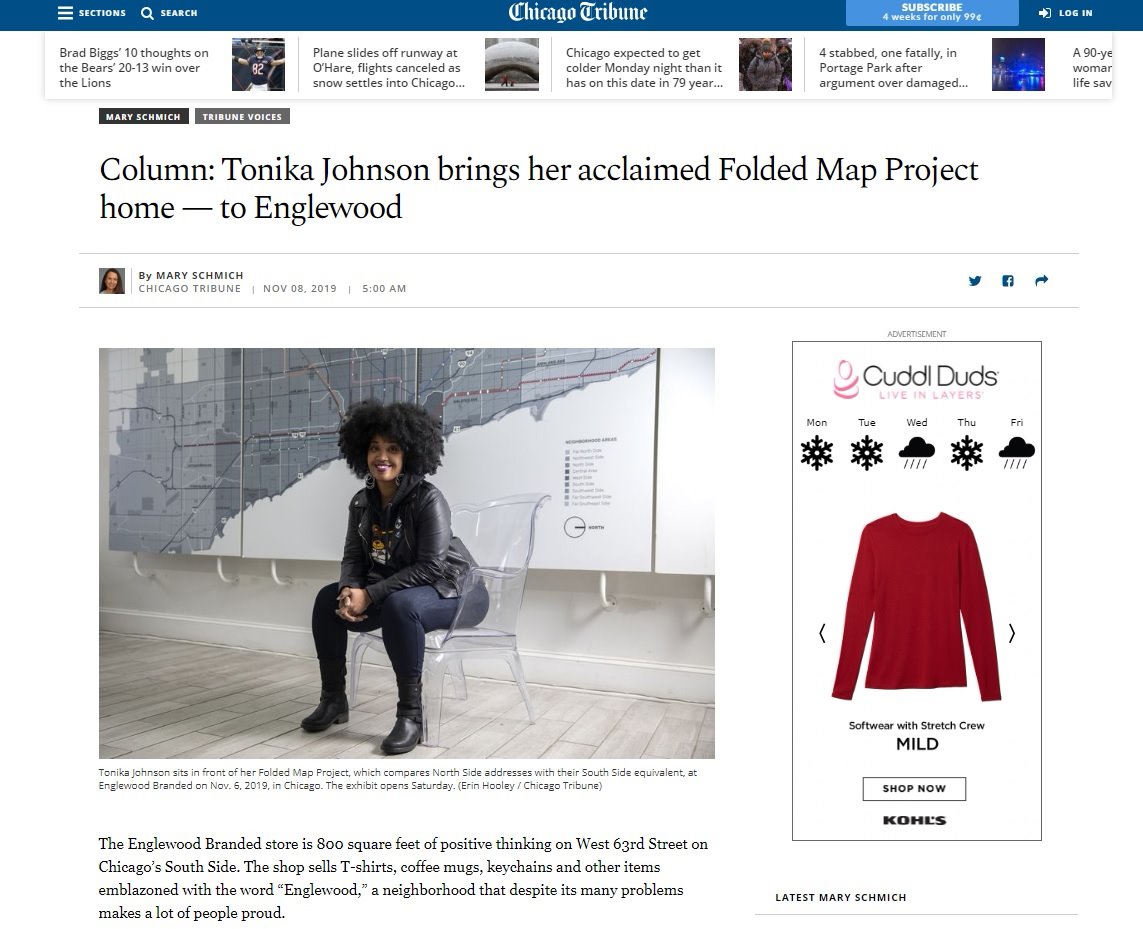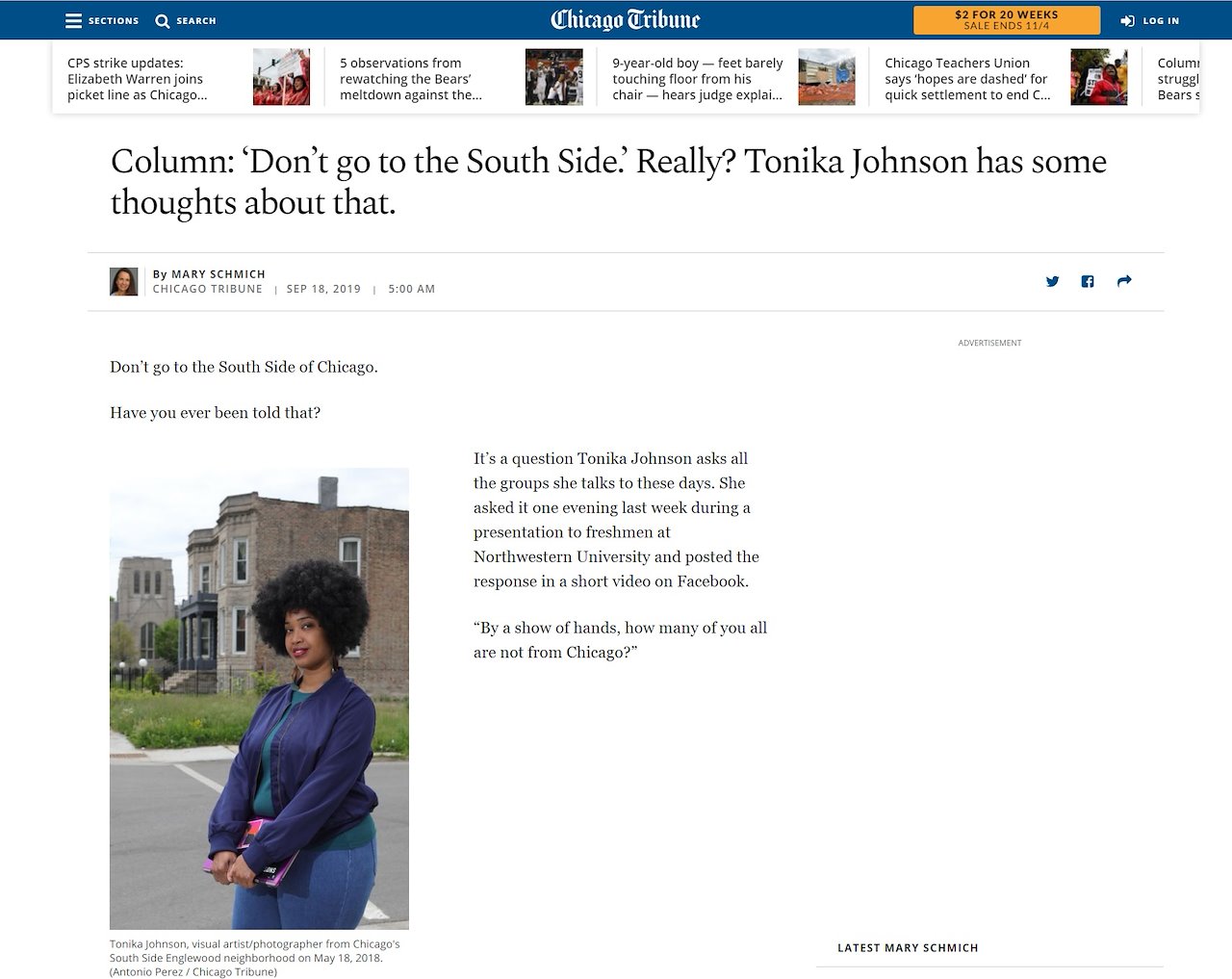 September 18, 2019 – Tonika posted a video clip to her social media of a room full of predominantly white, Northwestern University freshman all raising their hands in response to her question: "Have you been told to NOT go to the South Side?" Acclaimed Chicago Tribune columnist, Mary Schmich, viewed it and contacted Tonika to write an article about her question explicitly exposing how Chicago's segregation is perpetuated person to person. Now Tonika is inviting people who have been told "Don't go to the South (or West) Side," to share their story with her to be part of a new project in 2020! If you'd like to share your story, email foldedmapthoughts@gmail.com. Click the following link to read the full article: https://www.chicagotribune.com/columns/mary-schmich/ct-met-mary-schmich-tonika-johnson-south-side-segregation-20190918-65ezg43ksjd6ldeg26bqpzmyc4-story.html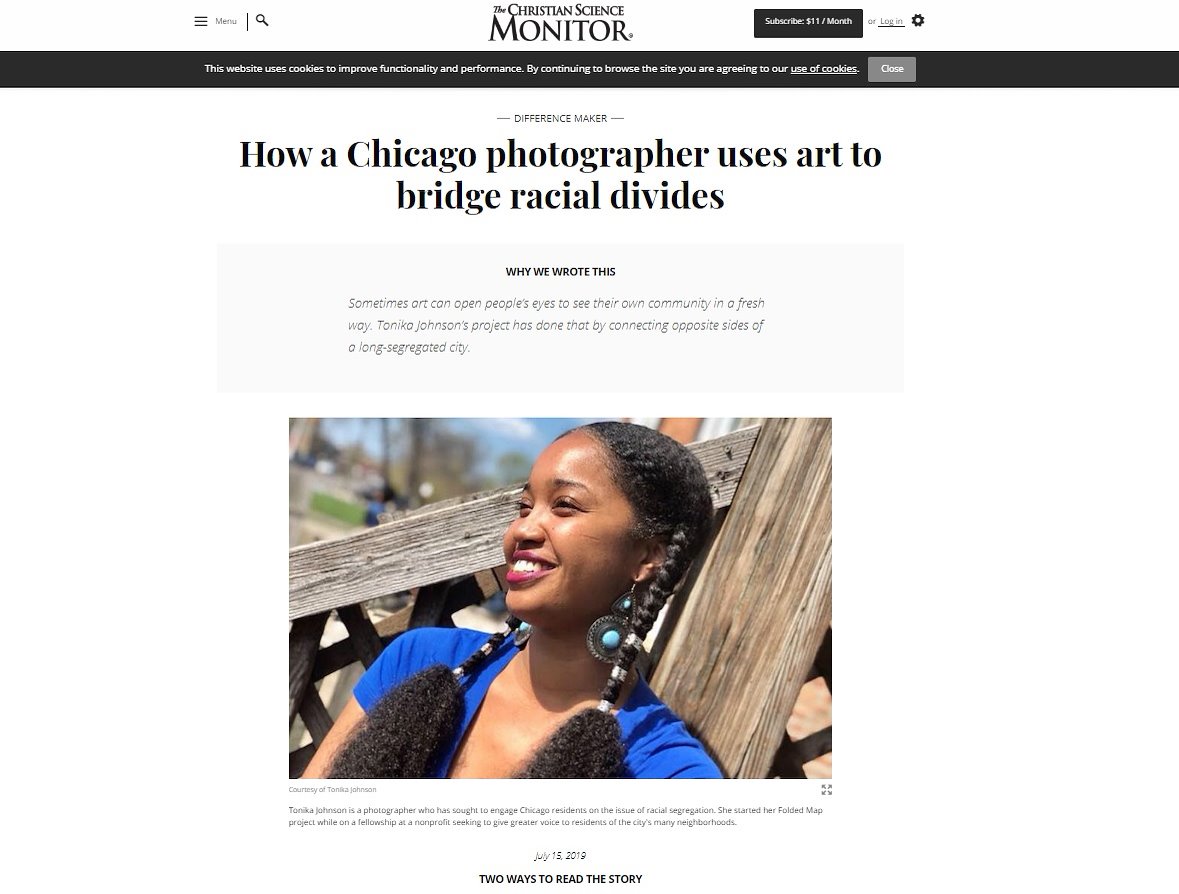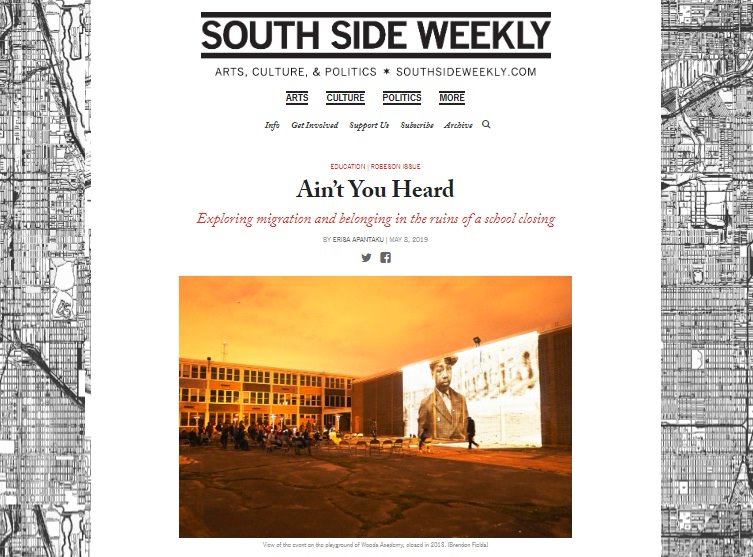 April 16, 2019 – Tonika Johnson, Paola Aguirre (Creative Grounds) and Aysha Butler (Resident Assc. Of Greater Englewood) hosted "Ain't You Heard – What Happens to a Dream Deferred," a storytelling event on the playground at Woods Academy, an Englewood elementary school that closed in 2013, that included a musical performance by rapper Roy Kinsey. Click the following link to read the full story in South Side Weekly: https://southsideweekly.com/aint-you-heard-robeson-high-school/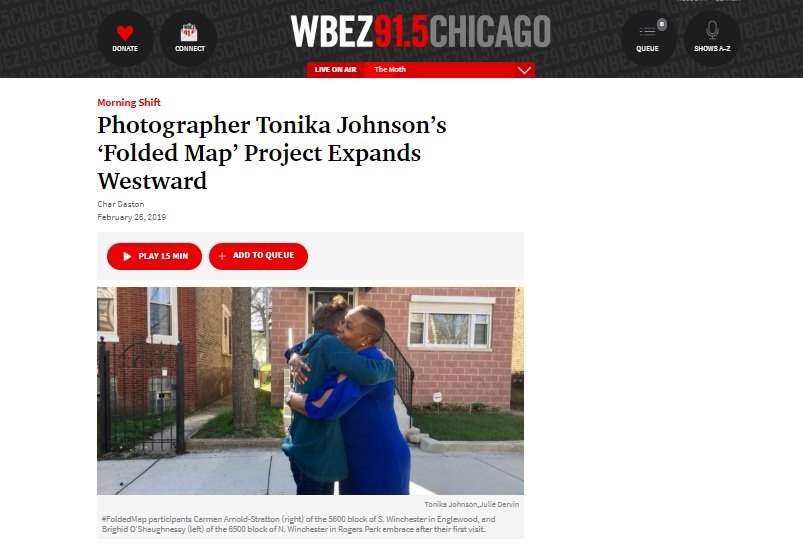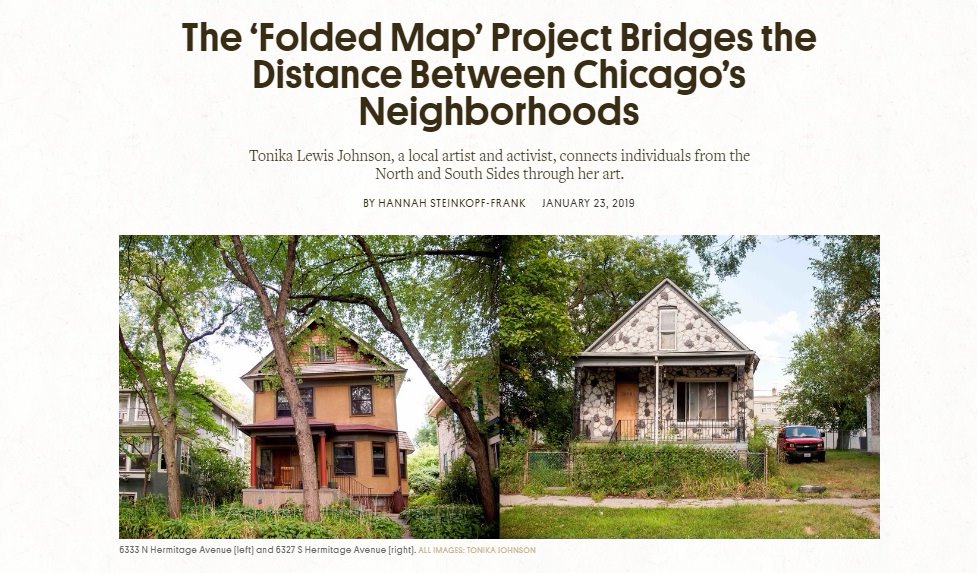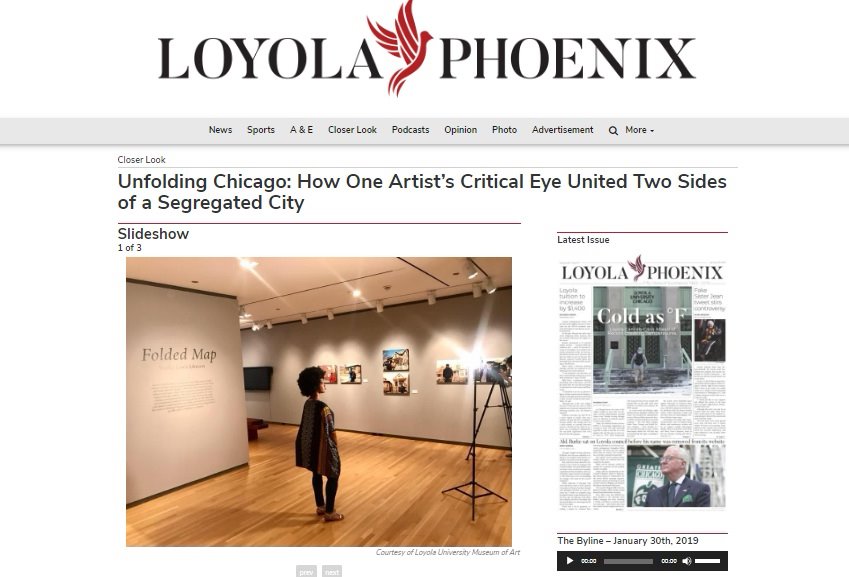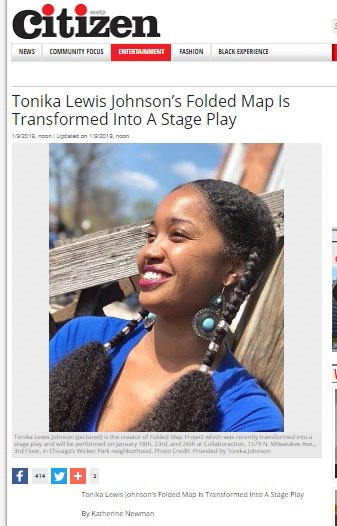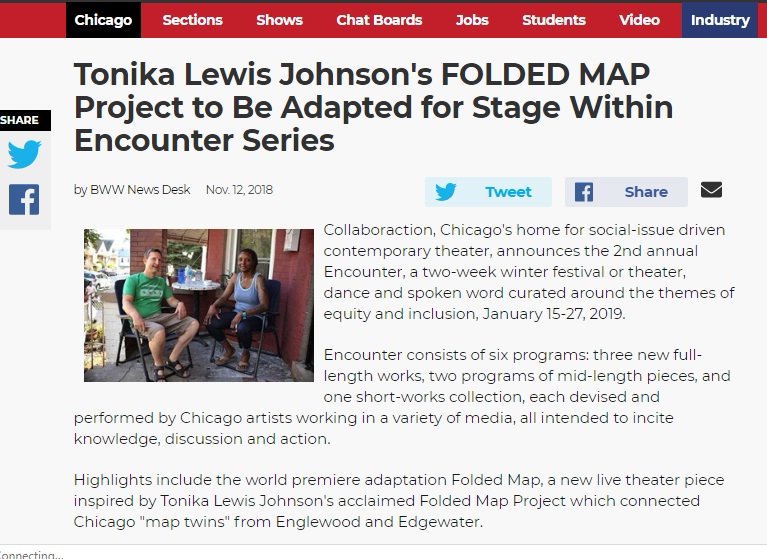 October 18, 2018 – Sun-Times columnist and author of "The South Side: A Portrait of Chicago and American Segregation," wrote about her personal "Folded Map," experience in her article about Tonika Johnson's Folded Map exhibit at Loyola University Museum of Art.
September 12, 2018 – Loyola University featured their interview with Tonika Johnson about her Folded Map exhibition on their website and alumni magazine. Reda more here – https://luc.edu/foldedmap/
June 20, 2018 – Tonika Johnson catches a ride with Fox 32's Anthony Ponce on Backseat Rider to discuss her Folded Map project opening at Loyola University Museum of Art July 3rd and running until October 20th! Click the link to watch the full video: http://www.fox32chicago.com/backseat-rider/341606371-video
Saturday, May 12th, 2018 – Tonika Johnson discusses her #FoldedMap project on WGN Radio's Outside The Loop show. Click here to listen at the 18:53 time mark.
Tonika's "Everyday #Englewood," photo "Her Name is Yoshi," (16x20, edition 3/10) will be included in Filter Photo's annual Cocktail Reception & Print Raffle fundraiser, Thursday, April 19th at The Boarding House. To attend, purchase tickets at http://filterphoto.org/cocktail-reception-and-print-raffle/
January 24, 2018 The JAM TV
Tonika Johnson's photography of Chicago's Englewood neighborhood are included in the historic and groundbreaking book, MFON: Women Photographers of the African Diaspora that features 118 photographers from across the globe. http://mfonfoto.org/
With her exhibit Everyday Rituals: Bridging the Black Secular and Divine, Chicago based photographer Tonika Johnson aims to subvert the national narrative of the Englewood community as a crime riddled war zone. Johnson believes that Black culture has always been reflected in everyday things like going to the barbershop or preparing food, but outsiders don't always see it that way. Tonika Johnson spoke with Jesse Menendez about how 'Everyday Rituals' captures the beauty of regular life in Englewood. The Morning AMp airs M-F 8-10 AM on 91.1 FM (CHI) / 89.5 FM (NWI) and streaming at www.vocalo.org
VOCALO: In our monthly ongoing series, This Is What Chicago Sounds Like, we feature voices and people who contribute to our city's rich cultural diversity. In this episode we highlight photographer and creator of the Everyday Rituals exhibition, Tonika Johnson.
WTTW Chicago Tonight (July 10, 2017)
Fox News #1 (Feb., 9, 2017)
Fox News #2 (Feb. 10, 2017)
Up Next:
Chicago Magazine's 2017 Chicagoans of the Year