Speaking Engagements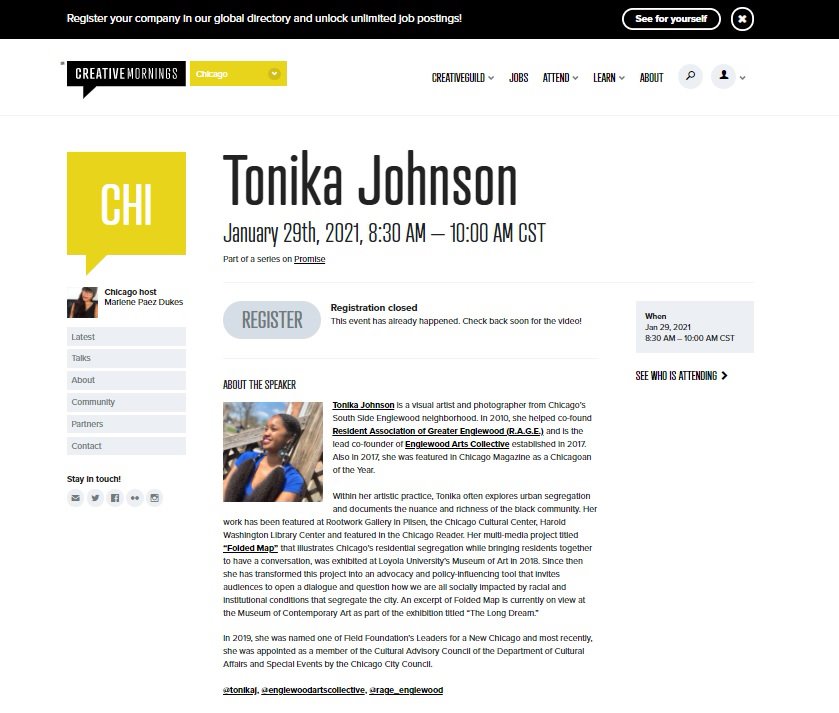 January 29, 2021 - Creative Mornings Chicago is a monthly, breakfast lecture series for Chicago's creative community. As part of their series on Promise, Tonika Johnson presented about her Folded Map project, invited attendees to take a Folded Map pledge and answered questions. See the presentation on this website in COVID-19 Virtual Engagement section.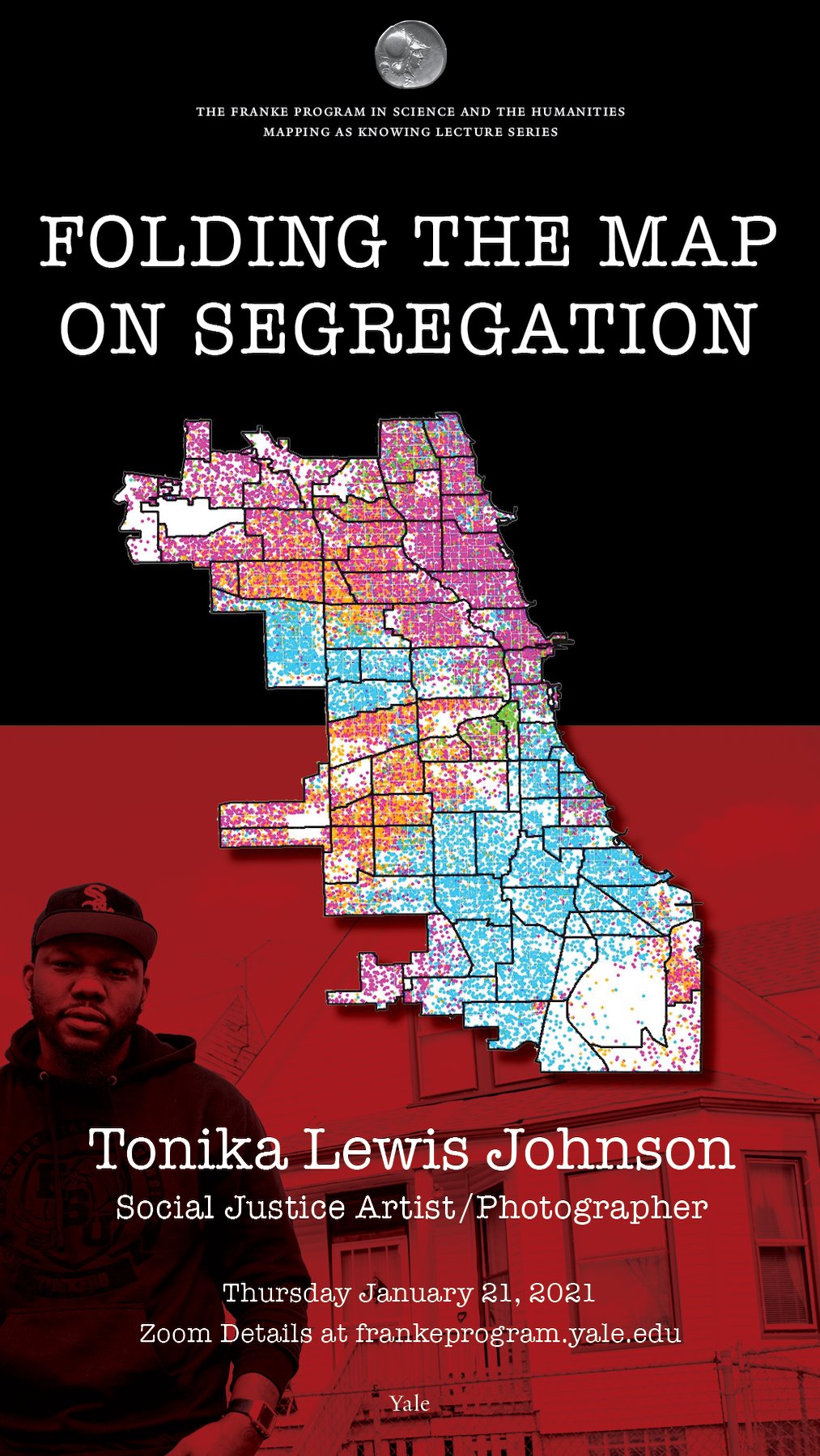 January 21, 2021 - In this virtual conversation, which is part of Yale University's "Mapping as Knowing Lecture Series," Tonika Johnson discusses how she came to use her creativity to explore urban segregation in Chicago with her Folded Map project and how it can serve as a resource for understanding, an empathy generator, and a conduit for action. Click the following link to view the talk: https://www.youtube.com/watch?v=LoM_xuljURY&feature=emb_logo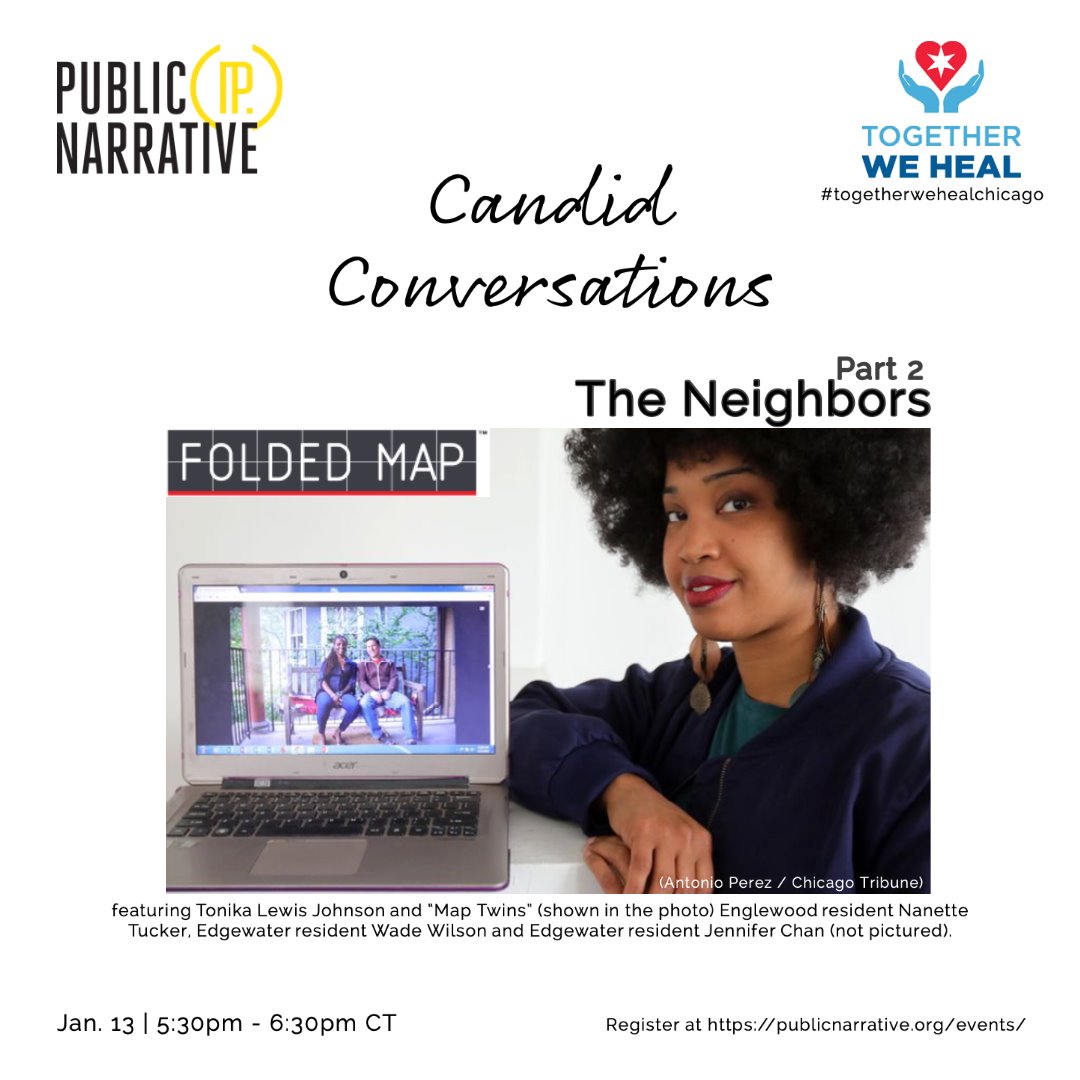 January 13, 2021 - The City of Chicago's new Office of Equity and Racial Justice (OERJ) is committed to institutionalizing equity into how the City of Chicago does its business. Given the challenges presented throughout 2020, OERJ developed Together We Heal as a multi-pronged strategy, which, supports efforts to build community healing, collective reckoning, and institutional transformation.Together We Heal launched the Candid Conversation Series in December 2020 that includes a host of virtual conversations where some of Chicago's healers, neighbors and faith leaders are invited to engage in open and honest conversations about Chicago, healing, and racial equity. In January, Tonika Johnson and Folded Map's first "Map Twins," were invited to host a Candid Conversation. See the full conversation on this website in COVID-19 Virtual Engagement section or click the following link:https://www.youtube.com/watch?v=msjuEofNEBI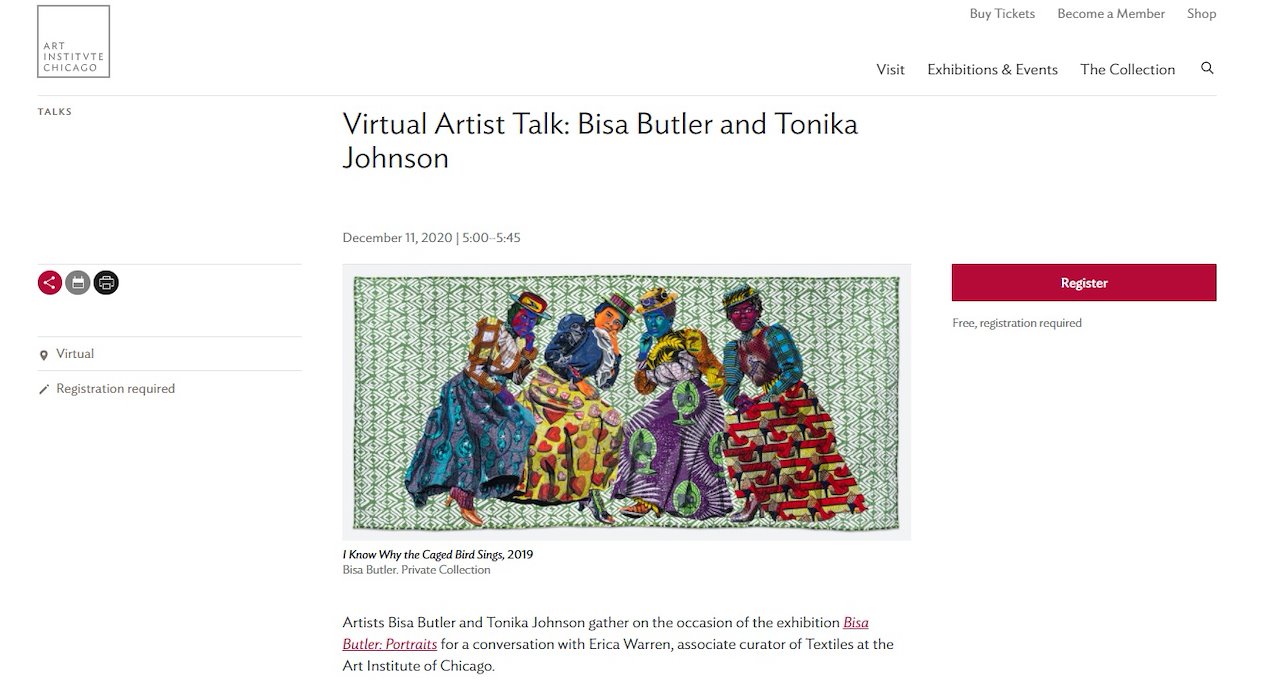 On Friday, December 11th at 5pm, Tonika Lewis Johnson will join intertnationally acclaimed fabric artist Bisa Butler for an artist talk as part of Butler's recently opened solo exhibition at the The Art Institute of Chicago! Click the following link to register: https://zoom.us/webinar/register/WN_loB166tpS_mvTmkegVMe-A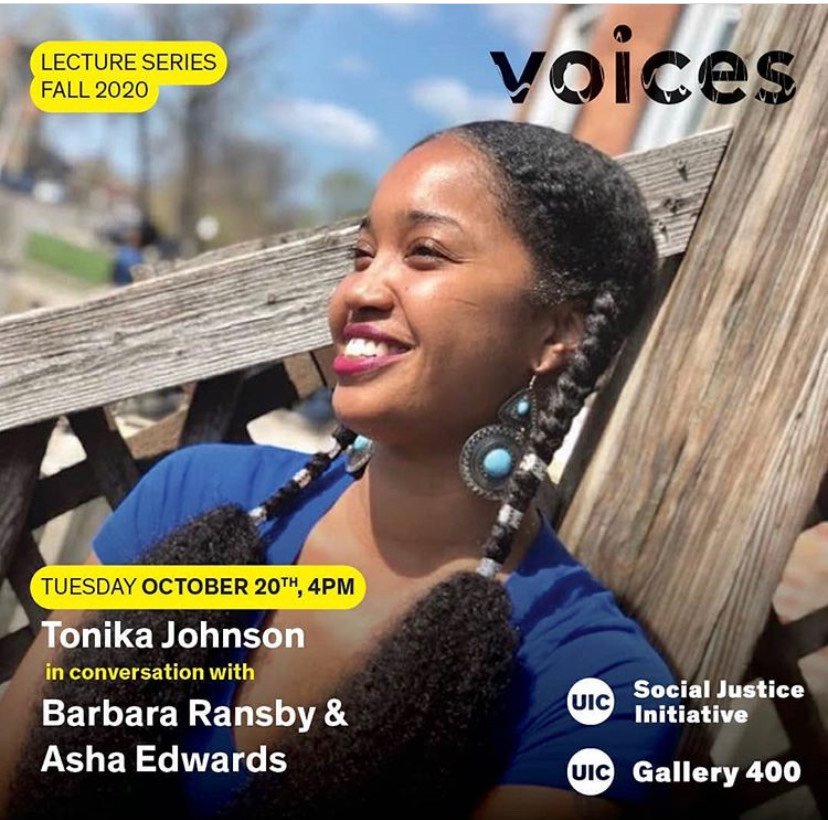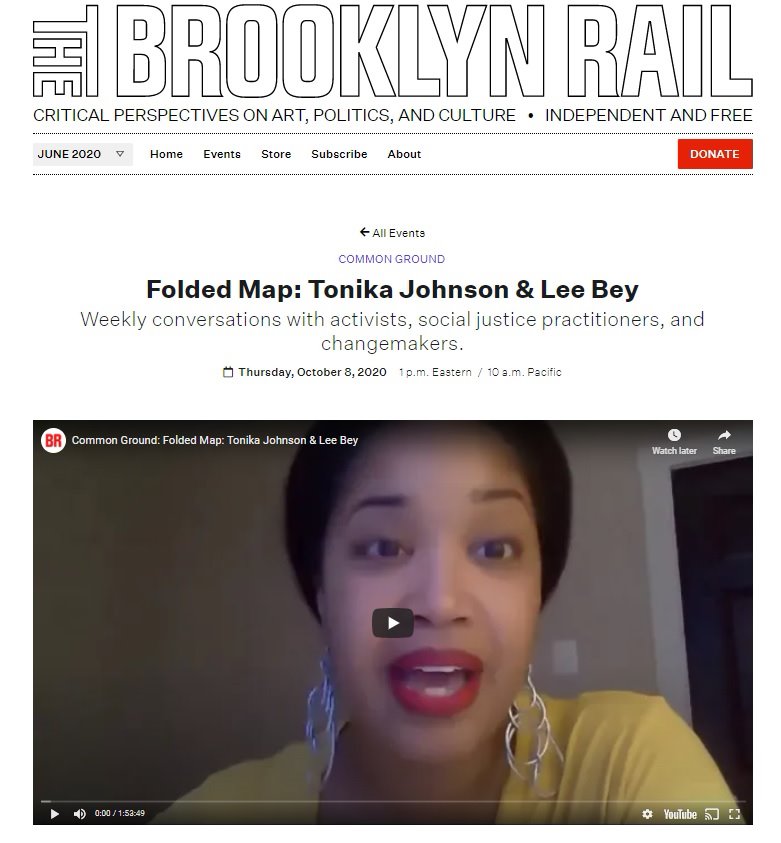 On October 8, 2020, Tonika Johnson was in conversation with Lee Bey, architecture critic, photographer, community historian, and author for the sixth installment of Common Ground, a weekly conversation series with activists, social justice practitioners, and changemakers by New York based, independent arts forum Brooklyn Rail. You can view the entire conversation at the following link to Tonika's "Virtual Engagement Archive" on this website - https://www.tonijphotography.com/projects/7218927
or you can view it at Brooklyn Rail's website here https://brooklynrail.org/events/2020/10/08/folded-maps-tonika-johnson-lee-bey/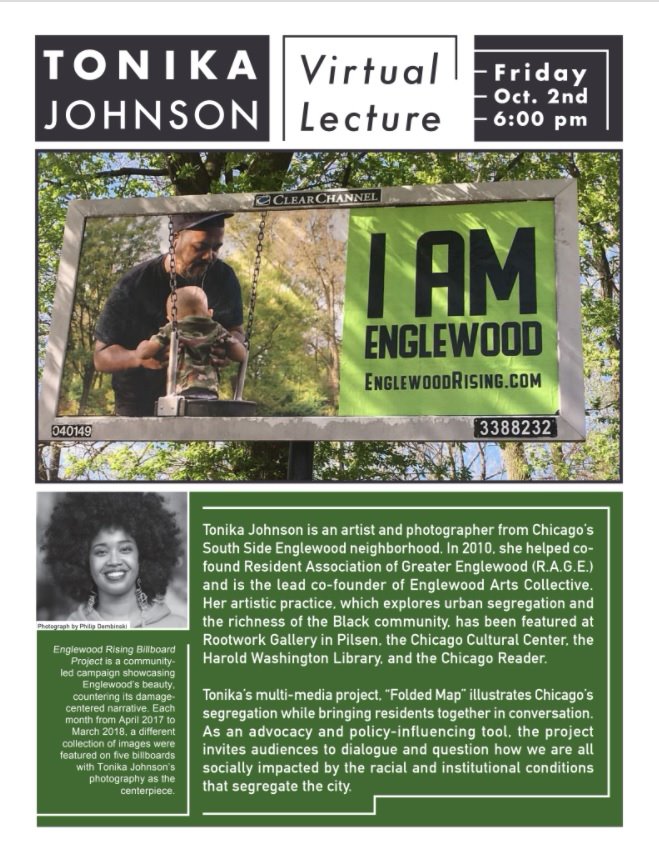 October 2, 2020 - The School of the Art Institute of Chicago invited Tonika Lewis Johnson to share her work and discuss her artistic practice with their Department of Contemporary Practices. You can view Tonika's presentation at the following link to Tonika's "Virtual Engagement Archive" on this website - https://www.tonijphotography.com/projects/7218927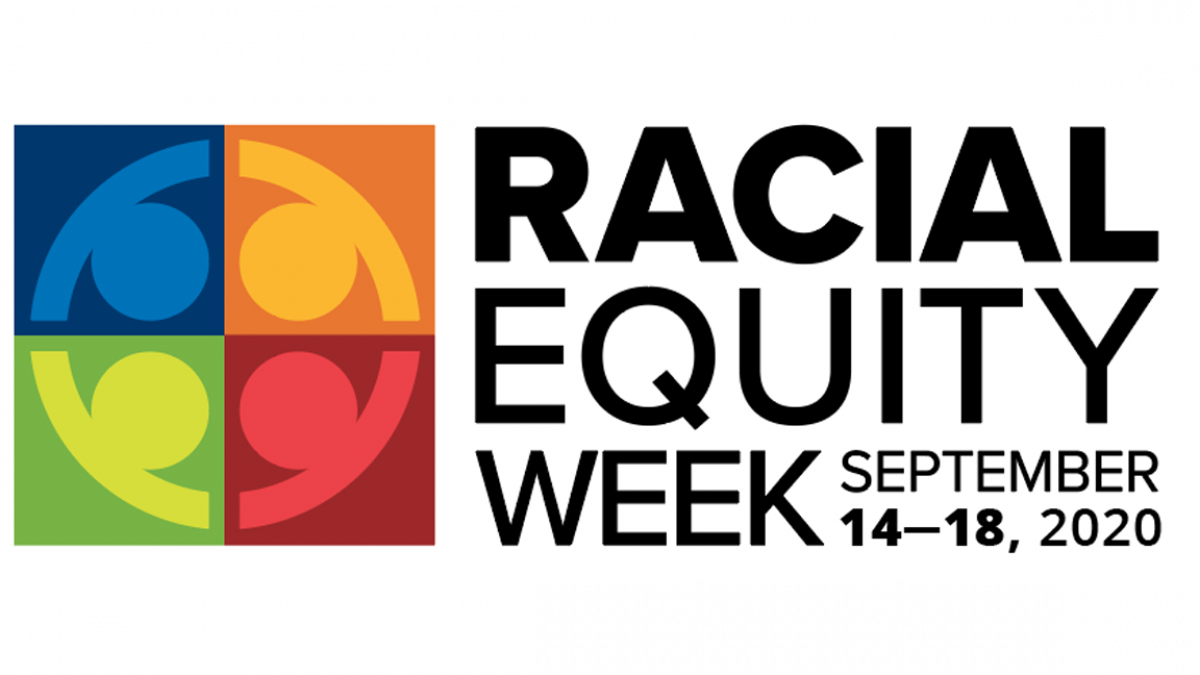 September 16, 2020 - President Toni Preckwinkle introduced the screeening of Folded Map Project's short film and panel discussion featuring Asiaha (Aysha) Butler of Resident Association of Greater Englewood, Dr. Maria Krysan, Professor of Sociology and co-author of The Cycle of Segregation, and Tonika Johnson. You can view the Q&A portion of this event at the following link to Tonika's "Virtual Engagement Archive" on this website - https://www.tonijphotography.com/projects/7218927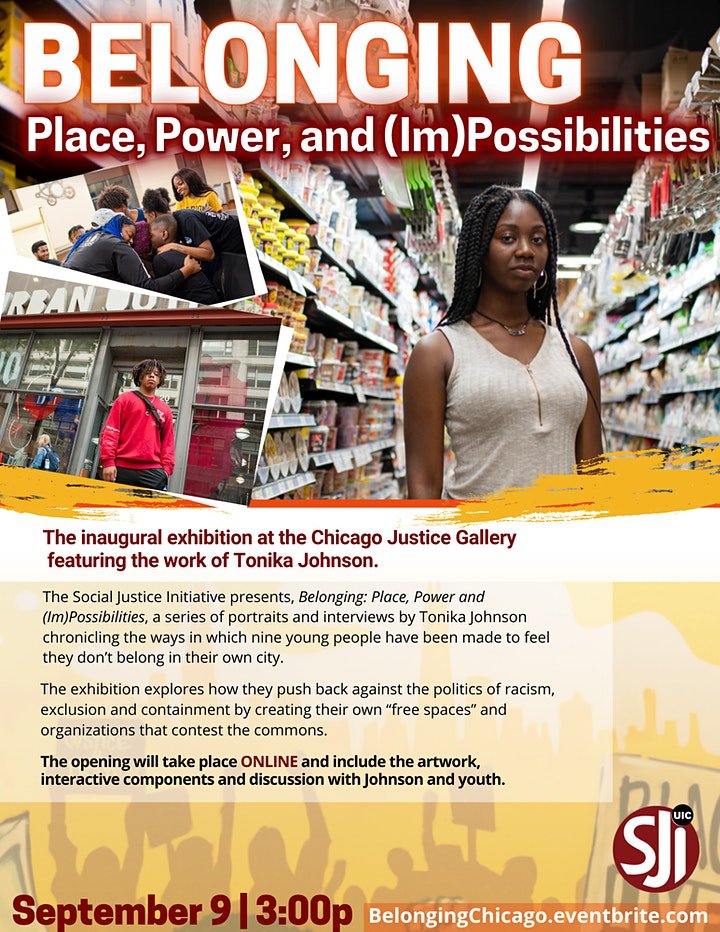 September 9, 2020 - University of Illinois in Chicago's (UIC) Social Justice Initiative (SJI) presented the online exhibition opening of Tonika's latest project, Belonging: Place, Power, and (Im)Possibilities, a series of portraits and interviews chronicling the ways in which, nine young people have been made to feel like they don't belong in their own city. The exhibition also explores how they push back against the politics of racism, exclusion and containment by creating their own "free spaces," and organizations that contest the commons. During this virtual exhibition opening Tonika was in conversation with SJI's Assc. Director, Essence McDowell and Taylore from youth organizing group, GoodKids MadCity with an opening by SJI's Director, Dr. Barbara Ransby.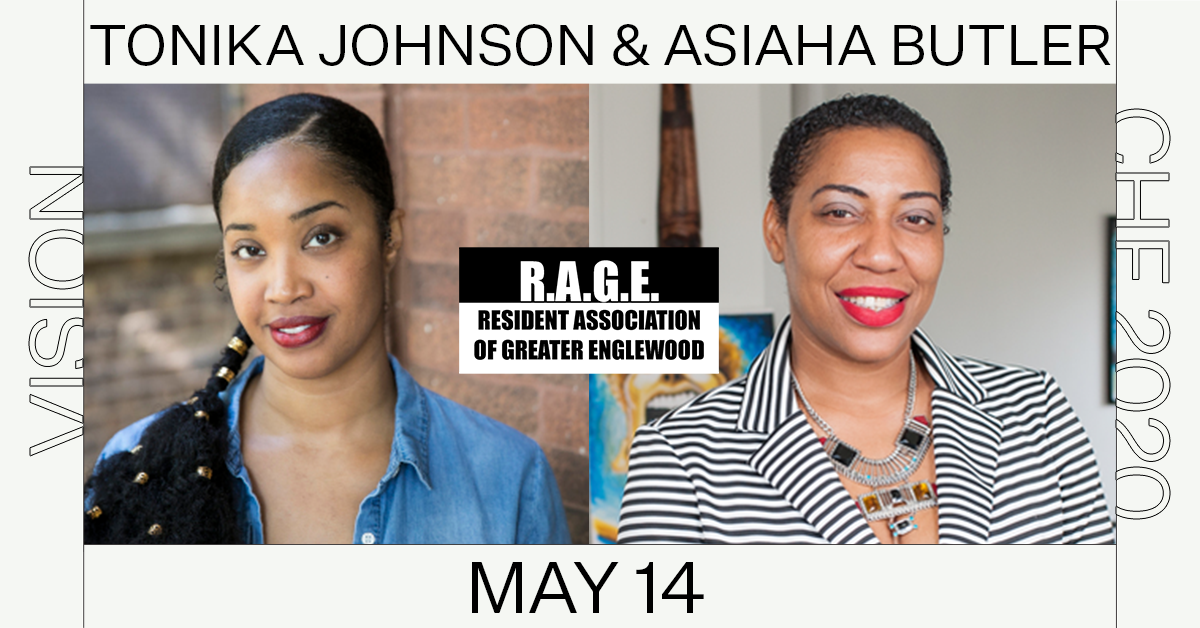 May 14, 2020 - As part Chicago Humanities Festival's (CHF) Neighborhood Check-In series during the COVID-19 pandemic, CHF hosted a virtual conversation with Tonika and Aysha Butler of Resident Assc. of Greater Englewood (RAGE) about how this crisis has affected the health, economy, and social ties of their Englewood community. Click the following link to watch the complete conversation: https://www.youtube.com/watch?v=NttaS92WXOc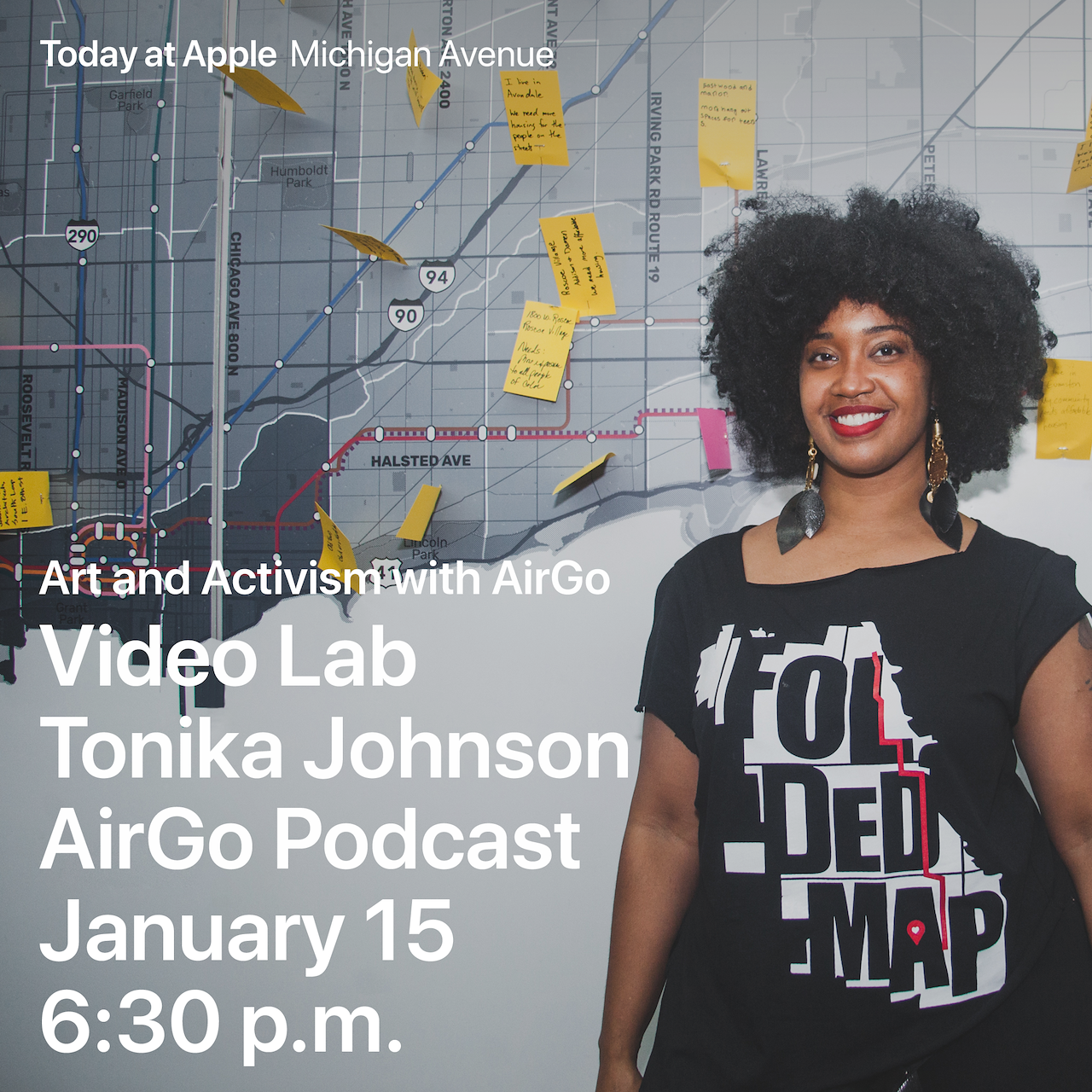 On January 15th at the flagship Apple Store on Chicago's Michigan Avenue, Tonika Johnson will break down invisible barriers as part of the Art and Activism with AirGo series. She'll share how she uses her creativity to explore urban segregation and document the black community. Using prompts from Johnson, you'll interview your map twin about where they live. Then you'll edit your interview and photograph your neighbor on an iPad.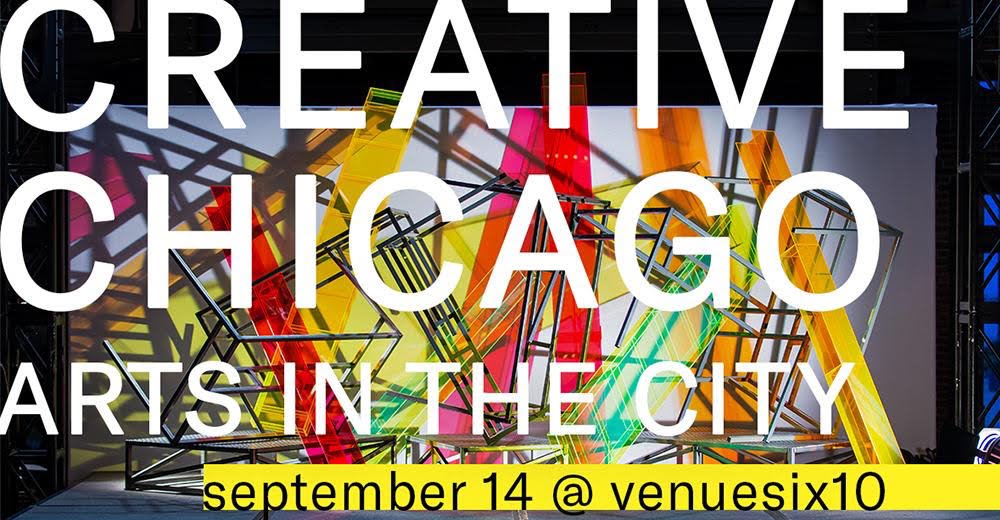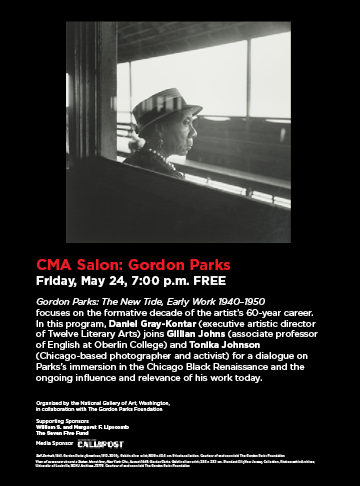 May 24th, 2019 – In this salon program for the Cleveland Museum of Art's exhibition "Gordon Parks: The New Tide 1940-1950," which, focuses on the first and most formative decade of the groundbreaking artist's sixty-year career, beginning with his full immersion in the Chicago Black Renaissance, Tonika Johnson joins Gillian Johns of Oberlin College and Daniel Gray-Kontar of Twelve Literary Arts in conversation about how Gordon Parks influenced and was inspired by a network of creative and intellectual figures including Ralph Ellison, Richard Wright, and Langston Hughes, and the ongoing influence and relevance of Parks work today.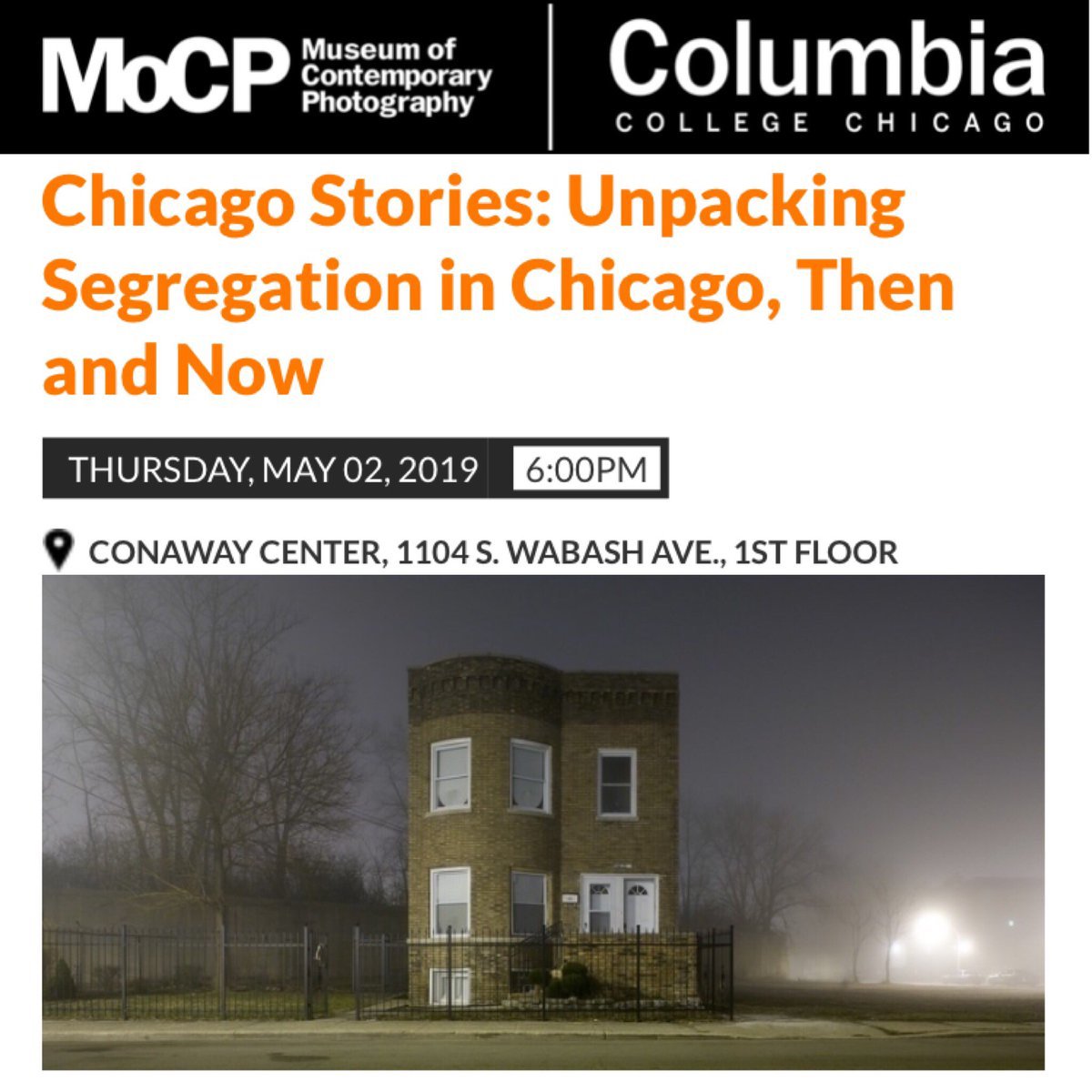 May 2, 2019 – This panel discussion explored the segregated history of Chicago neighborhoods, in conjunction with the exhibition "Chicago Stories: Carlos Javier Ortiz and David Schalliol." The discussion was moderated by Kristin Taylor, MoCP curator of academic programs and collections and included Tonika Johnson, Natalie Moore, exhibiting artists Carlos Javier Ortiz and David Schalliol; Lucy Baird, and Deborah Payne as panelists. Click here to view the entire panel discussion: https://vimeo.com/334757957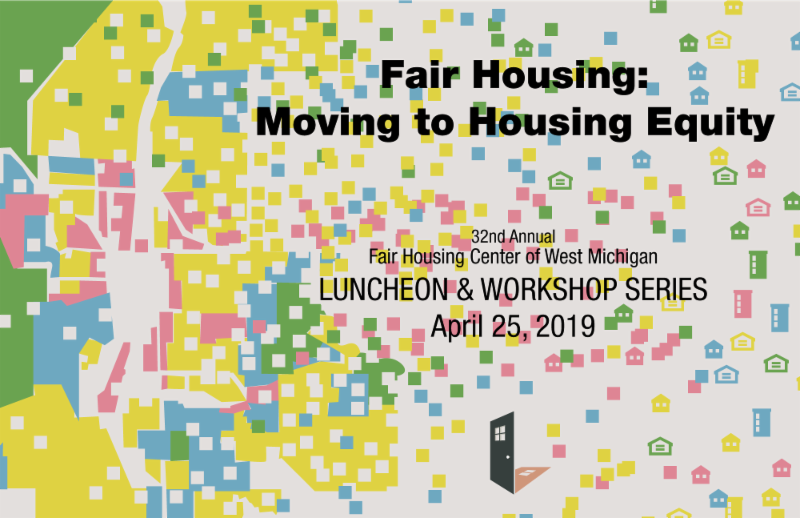 April 25, 2019 – Tonika Johnson hosted an interactive presentation about Folded Map as part of the Fair Housing Center of West Michigan's 32nd Annual Fair Housing "Moving to Housing Equity," Luncheon & Workshop.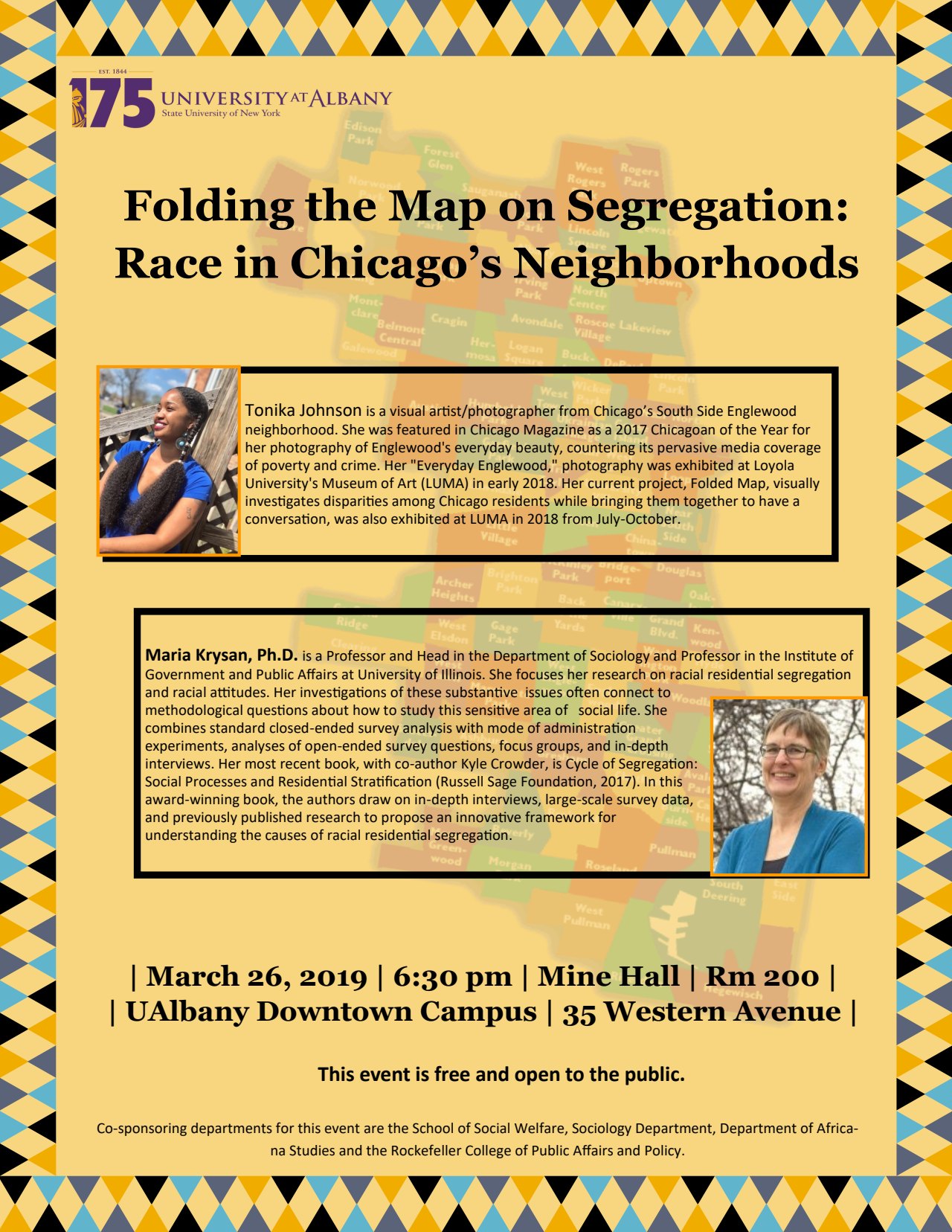 March 26th, 2019 – Tonika Johnson & Dr. Maria Kryson, author of "Cycle of Segregation," co-facilitated a presentation about segregation and inequity at the University at Albany (SUNY) with endorsement and support of the Deans of the School of Social Welfare, the Rockefeller College of Public Policy and the Department of Sociology.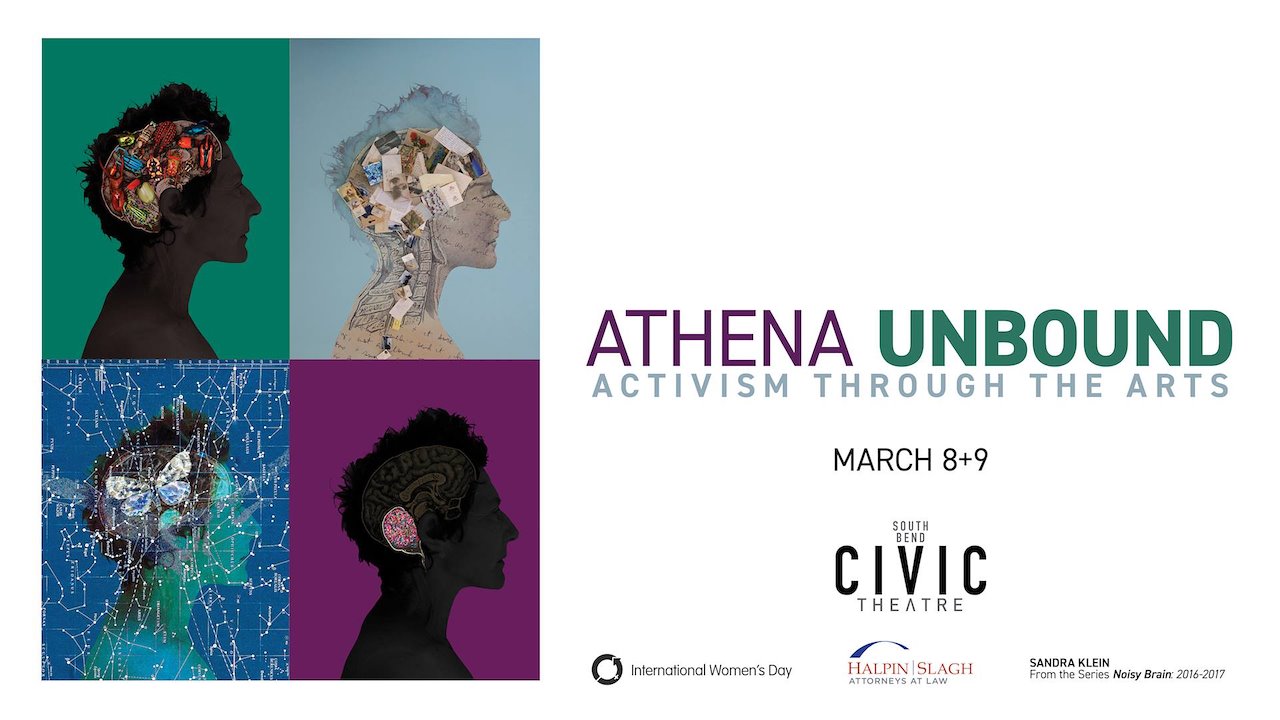 Athena UNBOUND is a two day celebration of female art, artists, and activism in conjunction with International Women's Day at South Bend Civic Center in South Bend, Indiana. Tonika is one of the participating artists in the exhibit "Women, Home, and the Revolution of Memory." Also, she will be one of the performance artists and panelists as part of the women's symposium panel, "Make Way| Make Change" Saturday evening, March 9th.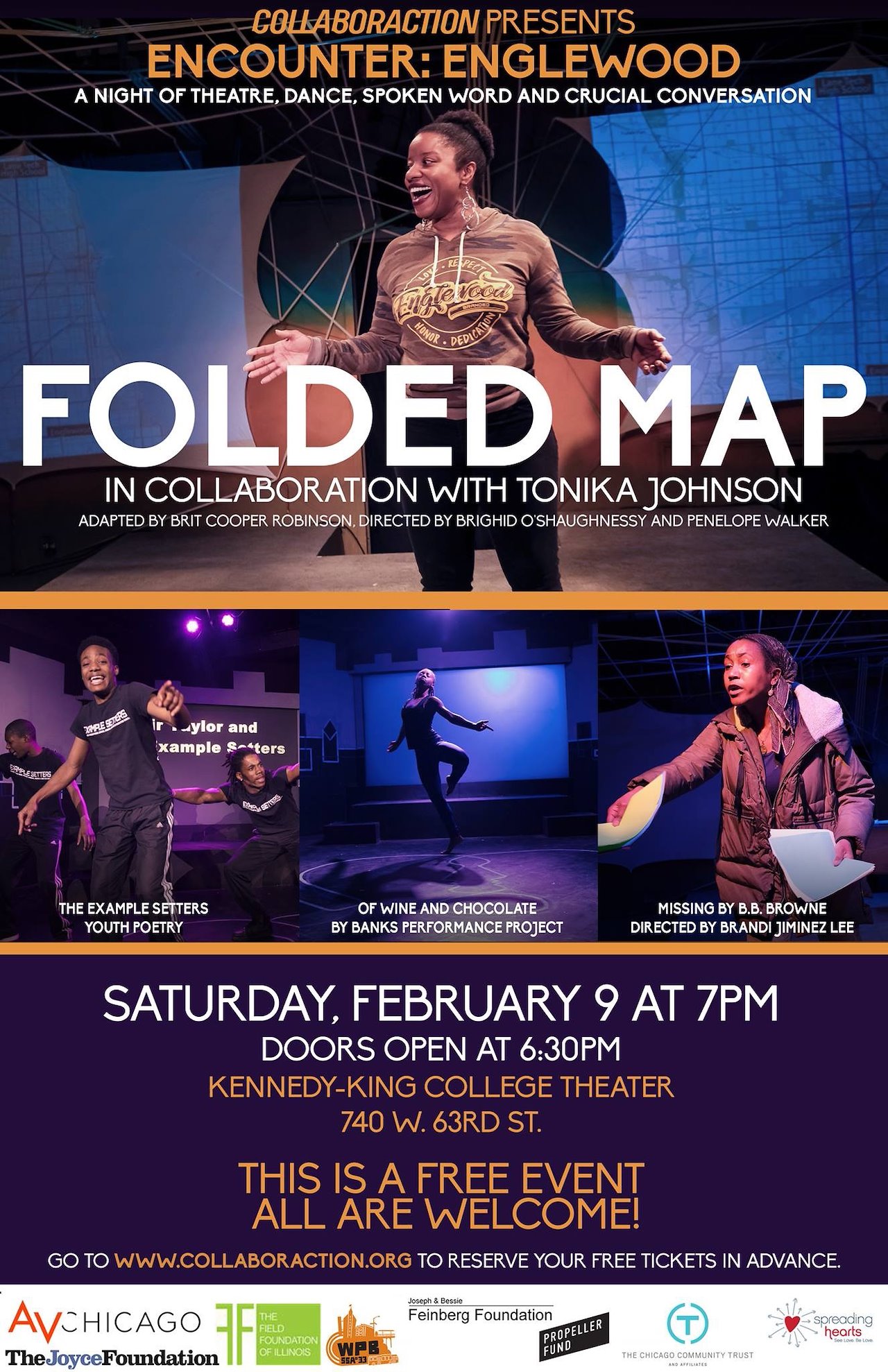 In January, the theatrical adaptation of Tonika Johnson's Folded Map project debuted to four sold out shows part of social justice, theater company, Collaboraction's performance series, Encounter. Now Folded Map will come home to Englewood for a feature performance at Kennedy King College on February 9th at 6:30pm. The production features vignettes of Tonika's childhood in Englewood that led to her observations about Chicago's segregation while attending Lane Tech College Prep High School on the North Side and during her daily commute there from Englewood.
Tonika Johnson joins a panel of esteemed guests at The Art Institute of Chicago on October 25th at 6pm to discuss the lasting impact of the artists exhibitied in the exhibition "Never A Lovely So Real," photography and film in Chicago, 1950-1980. Register for tickets here: http://www.artic.edu/node/7914
Tonika Johnson will host an "interactive" conversation program for her Folded Map project with architect and urban designer, Paola Aguirre for Chicago Humanities Festival 2018.
Saturday, October 6th, Tonika Johnson was a Keynote Speaker at "Cause The Effect," the annual young feminist conference founded by Chicago's 10th District Cook County Commissioner Bridget Gainer.
Loyola University Museum of Art & Filter Photo Festival have partnered to host a conversation with Folded Map creator Tonika Johnson and all of the Chicago residents who participated in the project, affectionately referred to as "map twins."
Tonika Johnson has partnered with The Scrappers Film Group for a special discussion about community, equity and urban planning following a screening of their documentary,THE AREA on Saturday, September 22nd, 7:45pm at the Gene Siskel Film Center of the School of the Art Institute of Chicago located 164 N State St. Purchase tickets to attend at the following link: http://www.siskelfilmcenter.org/thearea
Join Loyola University Museum of Art for a discussion between Folded Map creator Tonika Johnson and urban designer Paola Aguirre on their collaboration. Aguirre designed the mural-sized interactive map featured in the Folded Map exhibition.
Tonika Johnson is partnering with EXPOSURE: For Concerned Black Photographers to host a guided tour of her acclaimed Folded Map series!
To join them at 12:30pm, August 11th at LUMA (Loyola Museum of Art) as Johnson takes viewers through Folded Map detailing her work and methods, followed by an informal discussion Q and A, click here: https://bit.ly/2vckTh3
Exploring questions of how Chicago's Folded Map might shape our identities and political realities, CHICAGO CULTURE LAB presents Map & Meaning: A conversation with Dr. Mary Pattillo, Harold Washington Professor of Sociology and African, Northwestern University Katanya Raby, Southside based Urban Planner, CMAP and Tonika Johnson, Artist & Creator of Folded Map . Refreshments provided
Friday, June 22nd, Tonika Johnson will be a panelist in an action-oriented discussion addressing the needs of people of color in the creative sector titled, "Brass Tacks: Making Equity Work in Chicago Arts and Culture," hosted by the Arts Alliance Illinois, Art Leaders of Color Network, and Enrich Chicago . To register to attend, click the following link: https://salsa4.salsalabs.com/o/50953/l/eng/p/salsa/event/common/public/?event_KEY=10862
Tonika Johnson will be a photography panelist at Building Bridges Arts' 2nd Annual Young Entrepreneurship Summit in #Englewood at Hamilton Park Cultural Center on Saturday, May 5th. Tonika and other artist entrepreneurs will speak to youth about "creating opportunities with your passion" as well as conduct a photography workshop for youth with her friend and fellow photographer, Zakkiyyah Najeebah. https://www.eventbrite.com/e/young-entrepreneurship-summit-tickets-44042201410
Chicago Access Network Television (CAN TV) recorded the artists Amanda Williams and Tonika Johnson discuss Johnson's photography exhibition at Loyola University Museum of Art (LUMA) and the role of her art in the community work she does with Resident Assc. of Greater Englewood (R.A.G.E.).
https://www.youtube.com/watch?v=c4H6Q_CZC8c
Loyola University Museum of Art and acclaimed artist Amanda Williams will host a conversation with Tonika Johnson about how her Englewood-based photography was uplifted by engaged Englewood residents as a platform to recliam their community's narrative in the media.
Tonika Johnson served as an expert panelist at "The Artist as Problem Solver: Recognizing the Role of the Artist in Civic Life & Sustainability" 2018 Creative Placekeeping/Placemaking Summit cohosted by The Joyce Foundation and Big Car Collaborative on Thursday and Friday, March 1 and 2.
Join Dr. Eve L. Ewing, Dr. David Stovall and myself at Harold Washington College on Friday, February 16 for an evening of conversation about the Black experience in Chicago after a film screening of The Chi. This event is open to the public. For more information contact Asif Wilson, awilson243@ccc.edu.
The Opening Reception of my "Everyday Englewood," exhibition at Loyola University is Friday, February 9th at 5:30pm-7:30pm.
Critical times require critical conversations. Museum of Contemporary Art Chicago is hosting a conversation moderated by Zakkiyyah Najeebah Focusing on the work and ideas of WD Floyd and myself as it relates to promoting black empowerment, representation, and love thriving on the West and South Side of Chicago. This conversation is part of an ongoing dialogue/visual project titled Black Photo Futures (BPF) that centers the work and philosophies of black identified photographers and lens-based artists. Please join us to participate in this important discussion Tuesday, February 6 at 6pm-8pm. FREE ADMISSION!!
Up Next:
Collaboration with Roy Kinsey