Virtual Engagement Archive (2020-2021)
During the COVID-19 pandemic, Tonika began accepting many invitations from organizations, government entities, educational institutions and museums to do virtual public engagements discussing her work. Some of those virtual engagements are archived here.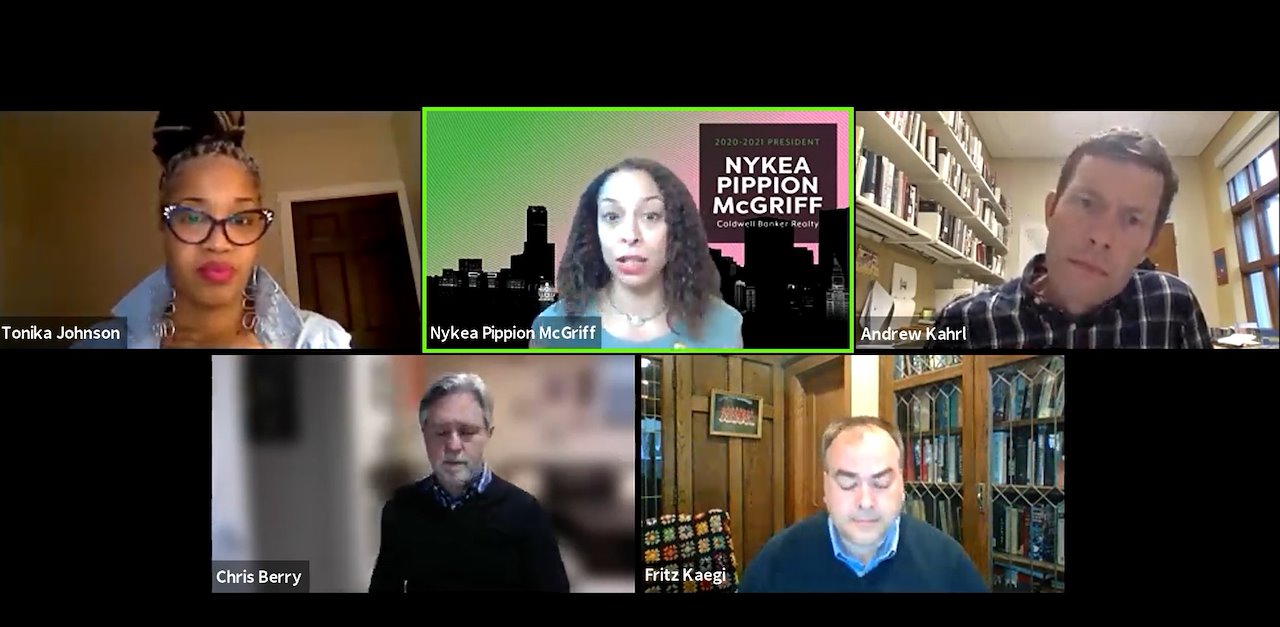 April 22, 2021 - Unfair property tax assessments can affect rates of homeownership and the ability to create generational wealth within neighborhoods. Tonika Johnson, Nykea Pippion McGriff (President, Chicago Association of Realtors), Professor Christopher Berry (University of Chicago Harris School of Public Policy), Professor Andrew Kahrl (University of Virginia) discussed the consequences of inequitable assessment practices and address solutions with @cookcountyassessor Fritz Kaegi as moderator. Click the following link to watch the entire discussion: https://www.youtube.com/watch?v=NZUKLO3Ft7I
April 14, 2021, Tonika Lewis Johnson, Patrick Santoro, and moderator Ian Damont Martin discussed disrupting systemic racism in the arts sector, as well as recognizing art that confronts racism for ART & Race, a six-part speaker series (ART &), part of Urban Gateways' 60th Anniversary celebration in 2021.
March 2, 2021 - Tonika presented about Folded Map and faciliated a dicussion between two churches who connected through Folded Map's Action Kit; South Side Fellowship Missionary Baptist Church and its North Side "Map Twin," church, Jesus People. Click the video to watch.
March 5, 2021 - Tonika presented this 45-min Artist Series lecture for the 2021 Virtual National Arts Education Assoc.'s (NAEA) National Convention. From March 4-7, 2021, visual arts educators from throughout the US and some thirty countries gathered to reflect upon their practice as artists and educators. In her lecture, Tonika discussed how art influenced her as a teenager, the life experiences that led to her creating Folded Map plus how the project has expanded since. Click the video to watch her complete lecture.
December 12, 2020 - Acclaimed fiber artist Bisa Butler and Tonika Johnson gathered for a virtual conversation on occasion of the Art Institute of Chicago's (AIC) exhibition, Bisa Butler: Portraits, with Erica Warren, AIC's associate curator of Textiles.
January 29, 2021 - Creative Mornings Chicago is a monthly, breakfast lecture series for Chicago's creative community. As part of their series on Promise, Tonika Johnson presented about her Folded Map project, invited attendees to take a Folded Map pledge and answered questions. Click to watch full presentation.
October 2, 2020 - The School of the Art Institute of Chicago invited Tonika Lewis Johnson to share her transdisciplinary work and discuss her artistic practice with their Department of Contemporary Practices. During this lecture she talks about her community advocacy work with Resident Assc. of Greater Englewood (R.A.G.E.), her space activations, and ofcourse her many multi-media photography projects such as Folded Map and her latest project, Belonging.
September 9, 2020 - University of Illinois in Chicago's (UIC) Social Justice Initiative (SJI) presented the online exhibition opening of Tonika's latest project, Belonging: Place, Power, and (Im)Possibilities, a series of portraits and interviews chronicling the ways in which, nine young people have been made to feel like they don't belong in their own city. The exhibition also explores how they push back against the politics of racism, exclusion and containment by creating their own "free spaces," and organizations that contest the commons. During this virtual exhibition opening Tonika was in conversation with SJI's Assc. Director, Essence McDowell and Taylore from youth organizing group, GoodKids MadCity with an opening by SJI's Director, Dr. Barbara Ransby.
October 20, 2020 - For University of Illinois in Chicago (UIC) Gallery 400's VOICES's artist series, Tonika discussed her art practice and current exhibition at the Chicago Justice Gallery Belonging: Power, Place, and (Im)Possibilities, with Social Justice Initiative Director Barbara Ransby and youth organizer Asha Edwards
The following link is to the original event page announcement - https://gallery400.uic.edu/our-events-upcoming-events/voices-tonika-johnson/
On October 8, 2020, Tonika Johnson was in conversation with Lee Bey, architecture critic, photographer, community historian, and author for the sixth installment of Common Ground, a weekly conversation series with activists, social justice practitioners, and changemakers by New York based, independent arts forum Brooklyn Rail.
The conversation explores the cultural life in the South Side of Chicago, how segregation is baked into our cities, and how the curative for systemic disinvestment is shifting value back onto your own block. They also discuss Johnson's response to Alec Soth's photo essay commissioned by The New York Times, why this infringement is emblematic of a broader problem of racism in media journalism, and her new project, Belonging which highlights the experiences of teenagers growing up in a system of policing and containment designed to keep them from traversing their own city as full citizens, and who still persist in creating spaces of belonging and sustenance. This conversation is moderated by Malvika Jolly, and closes with a reading from poet and music journalist I.S. Jones.
March 7, 2021 - Tonika Johnson presented Folded Map to the Third Unitarian Church congregation . Click the link to watch the complete presentation.
February 21, 2021 - SF Urban Film Festival hosted a panel discussion program about the convergence of segregation, community development, the crisis of police brutality in Black and Brown neighborhoods, and narrative justice as a way forward. Tonika shared the panel with Ronald Sundstrom (Moderator) - SFUFF Humanities Advisor, Professor of Philosophy University of San Francisco
Jane Gillooly - Artist/Educator; Filmmaker, Where the Pavement Ends
Dr. Brandi Thompson Summers - Assistant Professor of Geography and Global Metropolitan Studies at the University of California, Berkeley
February 20, 2021 - The Lutheran School of Theology at Chicago hosted a conversation with Tonika Johnson, founder of Folded Map Project, and Francis and Andre Guichard, co-owners of Gallery Guichard, about ways Black Joy is celebrated in public art.
January 13, 2021 - The City of Chicago's new Office of Equity and Racial Justice (OERJ) is committed to institutionalizing equity into how the City of Chicago does its business. Given the challenges presented throughout 2020, OERJ developed Together We Heal as a multi-pronged strategy, which, supports efforts to build community healing, collective reckoning, and institutional transformation.Together We Heal launched the Candid Conversation Series in December 2020 that includes a host of virtual conversations where some of Chicago's healers, neighbors and faith leaders are invited to engage in open and honest conversations about Chicago, healing, and racial equity. In January, Tonika Johnson and Folded Map's first "Map Twins," were invited to host this Candid Conversation.
January 21, 2020 - In this virtual conversation, which is part of Yale University's "Mapping as Knowing Lecture Series," Tonika Johnson discusses how she came to use her creativity to explore urban segregation in Chicago with her Folded Map project and how it can serve as a resource for understanding, an empathy generator, and a conduit for action. CLick to watch full conversation.
May 14, 2020 - During the pandemic, Chicago Humanities Festival created the Chicago Neighborhood Check-In series, in which they ask artists, cultural workers, and organizers about the local impact of the coronavirus pandemic. Tonika Johnson and Asiaha Butler, co-founders of the Resident Association of Greater Englewood (R.A.G.E.), talked about how this crisis has affected the health, economy, and social ties of their community. Drawing on their intertwined backgrounds in art and activism, Tonika and Aysha reflected on their personal experiences living and working in Englewood during the pandemic, and their hopes for community healing after this crisis.
October 28, 2020 - Tonika and her frequent artistic collaborator, Paola Aguirre Serrano of Borderless Studio (www.borderless-studio.com), moderated Chicago Humanities Festival's Chicago Neighborhood Check-In on Arts & Neighborhood Development with Karin Abercrombie, Executive Director of the Swedish American Museum; Bernard Loyd, founder and president of social enterprise, Urban Junture; and
Billy Ocasio, Executive Director of the National Museum of Puerto Rican Arts and Culture and served as the 26th Ward Alderman in Chicago's City Council for over 16 years.
October 6, 2020 - With a dynamic conversation about building bridges to a more racially equitable Illinois, The Illinois Dept. of Human Services launched Healing Illinois launched Healing Illinois, a racial healing initiative led by the Illinois Department of Human Services (IDHS), in partnership with The Chicago Community Trust, designed to distribute $4.5 million in grants to organizations across the state to activate the work of racial healing. Governor JB Pritzker, Lieutenant Governor Juliana Stratton and Deputy Governor Sol Flores opened the conversation, which was moderated by Grace Hou, Secretary, Illinois Dept. of Human Services Secretary. Tonika was one of the panelists along with José A. Rico, executive director of Truth, Racial Healing and Transformation, Greater Chicago and Dar Bryant, Director of The Dream Center of Alton, IL. Click to watch the complete conversation.
September 16, 2020 - President Toni Preckwinkle introduced the screeening of Folded Map Project's short film and panel discussion featuring Asiaha (Aysha) Butler of Resident Association of Greater Englewood, Dr. Maria Krysan, Professor of Sociology and co-author of The Cycle of Segregation, and Tonika Johnson. Here is the introduction and the Q&A portion of the event.
Up Next:
Englewood's 1st Art Fair - 2016